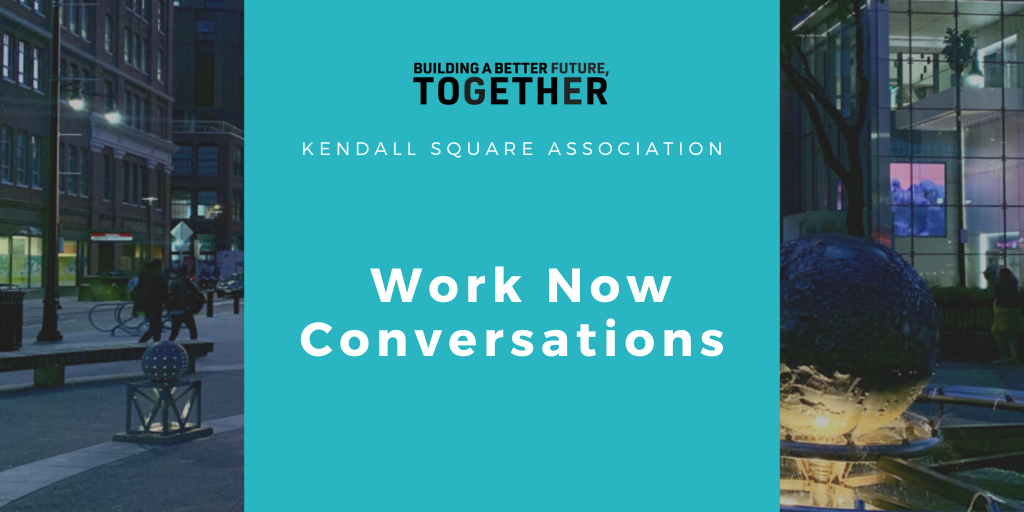 Kendall Square Association's (KSA) Future of (how we) Work Task Force answers critical questions about how our innovation ecosystem will return to work in a post-COVID-19 world. The Future of (how We) Work Task Force has addressed topics including transportation, workplace safety, open space, and supporting small businesses.
KSA will be continuing Task Force meetings in the months ahead which will focus on the topics that are impacting our community the most. From childcare solutions to addressing the need for diversity, and sharing updates on transportation, safety, and small business, we will build on our learning and share our discoveries to serve as a resource for Kendall businesses.
Looking for:
---
Creating a Supportive, Inclusive Workplace for Caregivers
Our most recent Work Now conversation focused on a topic near and dear to many of us, creating a supportive, inclusive workplace for those who care for children, elders and others. With an estimated $2.7 billion in lost productivity and income due to child care-related absenteeism in Massachusetts, this is a significant issue. The conversation featured Aiofe Brennan, CEO of Synlogic, and Tom Weber, Executive Director of the Massachusetts Business Coalition for Early Childhood Education, and moderator Donielle Buie, Director of Broadie Experience and Total Rewards at the Broad Institute of Harvard and MIT, and 46 members of the Kendall Square community gathered virtually to participate. The workplace has changed since the onset of the pandemic, and continues to change. Here are our top three takeaways.
Employers have become more flexible, creative and are integrating more robust support for employees as part of their benefits packages.
Employers need to be intentional to avoid creating two-tier work systems, for in person and flexible work employees, and to avoid creating systems that are biased against women.
Employers should model a culture that thoughtfully makes caregiving a welcome conversation.